• Unit
• User Manual
• Warranty Card
Jet Air & Air Hanger

Give your clothes a deeper clean with #SmarterThingsAtHome. The Jet Air & Air Hanger function of the #SamsungAirDresser blows powerful jets of air removing dust and odors effectively.
Jet Steam
Keep germs and other harmful substances at bay with #SmarterThingsAtHome. Sanitize your clothes with the Jet Steam function of the #SamsungAirDresser.
Deodorizer

Keep your clothes fresh with #SmarterThingsAtHome. The Deodorizer function of the #SamsungAirDresser removes odor-causing gases helping prevent unpleasant smell.
SmartThings App
Care for your clothes better with #SmarterThingsAtHome. SmartThings from the #SamsungAirDresser is your intelligent laundry assistant that troubleshoots and suggests ideal wash cycles for your clothes.
Dehumidification
Freshen the room with #SmarterThingsAtHome. The Dehumidification feature of the #SamsungAirDresser draws in moisture from your room and expels dry air ensuring an ideal environment for you and your clothes. 
An unparalleled presence
Meticulously designed to be both easy to use and beautiful to look at, AirDresser brings unassuming sophistication to your closet, office, or anywhere in your home.
Fresh Finish™

Freshen up your garments and reduce static cling by inserting a dryer sheet into the built-in Fresh Finish™ compartment.²
Weight Kit

Speed up your ironing routine with our Weight Kit, which helps renew pant pleats and smooth out wrinkles to keep pants looking their best.
Simply maintained, effortlessly cleaned
Self Clean technology eliminates odors and buildup inside your AirDresser so you don't have to. It even sends reminders when you're due for a cleaning every 40 cycles.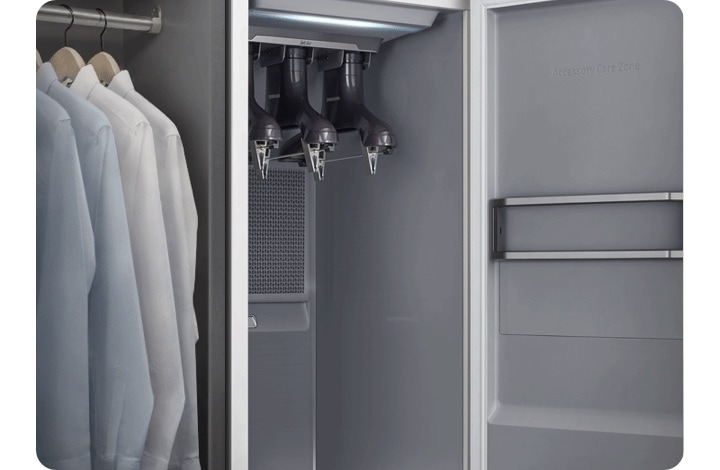 Smart Control in the palm of your hand
With the SmartThings app, remotely start, pause, receive notifications and get cycle recommendations right on your phone so you can care for your clothes from anywhere.³
Specifications:
● Crystal Mirror
● Touch + LCD
● Digital Inverter Compressor
● Digital Inverter Motor
● JetSteam
● Deodorizing Filter
● HeatPump Drying
● Wrinkle Care
● Soft Closing
● Smart Control
● Cycles: Normal, Quick, Sanitize, Delicates, Dry (Sensor Dry, Time Dry, Room Care)
● Special Cycles: Suits, School Uniform, Winter Coat, Wool/Knit, Outdoor, Down Jackets, Fur/Leather, Heavy Duty, Self Clean
● Download+ Cycles: Denim, Down Dry, Accessories, Babywear, Bedding, Toys
Length: 61.5 cm
Width: 44.5 cm
Height: 185 cm
1 Year